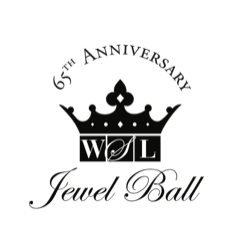 As a Jewel Ball Austin Royal Court past participant, you are eligible to be in the "Circle of Jewels," a group of past Austin Royal Court members who share that common bond. We deeply appreciate your continued support of the Women's Symphony League and the children's education programs of the Austin Symphony Orchestra.
It's time to join (or renew) your annual Circle of Jewels membership! Your tax-deductible donation of $50.00 will include a prominent Circle of Jewels full-page ad in the Jewel Ball program, recognizing you and others who choose to participate. To be included in the program, please make a payment online by August 16, 2019.
The 65th Annual 2019 Jewel Ball "The Sound of Music", will be held on Saturday, September 21, 2019, at the Palmer Events Center. The Fashion Luncheon, on Friday, September 20, will also be at the Palmer Events Center and feature Brooke Shields as our Keynote Speaker. We invite you to participate in the weekend's festivities, as we honor our traditions and look to the future.
We really hope to have all the past royal court participants come to the Jewel Ball this year to celebrate our 65th Jewel Ball year!
Women's Symphony League appreciates your support and all you do for our organization.
To make your membership payment, please click HERE.